What is Charcot Foot?
The term "Charcot Foot" may be used to describe Charcot arthropathy or Charcot-Marie-Tooth disease.  In either case, it is a deformity characterized by very high arches, hammertoes and a lack of muscle strength in the foot.  The severity of the deformity varies depending on the stage of the condition.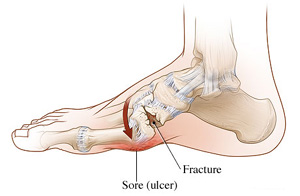 What are the Signs and Symptoms of Charcot Foot?
In the early stages, there may be mild swelling, pain or redness.  The skin tends to feel hotter … Read the Full Article